De natuur, de sterren, het universum. Als druïde verbind ik mij op diepgaande wijze met de bron en moeder aarde.
Verbinden met de natuur helpt mij met beide benen op de grond mijn spiritualiteit te beleven en daardoor mijzelf en anderen te ondersteunen met het leven op dit moment op Aarde. Ik leef zoveel mogelijk met het ritme van de natuur, volg de natuurlijke seizoenen van het wiel van het jaar.
De vieringen van de natuur jaarfeesten zijn daar een heel fijn onderdeel van.
Het leven en de natuur is vol verwondering en magie, laten we daar van genieten!
Mijn opgedane ervaring a
ls druïde celebrant
met de handfasting ceremonies de afgelopen jaren wil ik graag doorgeven.
Wil jij op verdiepende wijze leren een handfasting natuurceremonie te voltrekken?
E-BOOK
Wil je inspiratie bij het schrijven van je geloften voor jullie trouw- en of handfasting ceremonie?
Laat het gratis e-book Inspiration from nature daarbij helpen.
GECERTIFICEERD
Met goed gevolg heb ik de cursus Celebrating Life afgerond aan the School of Celebrancy, The Order of Bards, Ovates & Druids.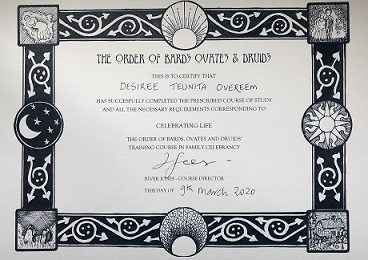 Foto Désiree homepage en deze pagina bovenaan: Renske Zwaan Photography