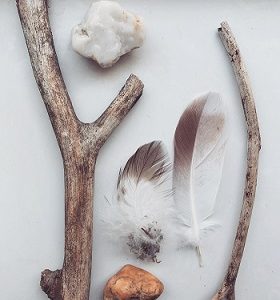 √ Experiencing silence
√ Quiet in my head
√ In connection with myself
and nature
Slowing down in the woods
Unwindduring the Mindful in't bos walk with life coach and druid Désiree.
In the woods of Estate Appel, I will guide you in slowing down in nature, from tension to de-stress....
Group walks and 1-on-1 walks
Being consciously in the here and now, to experience stillness and space, the connection with yourself.
It is a quiet mindfulness walk of about 1.5 -2 hours with attention to your breathing, grounding, stillness, meditation and a creative exercise.
It helps you relax, experience more peace in your mind and connect with yourself, in and with nature.
Being Connected to Yourself and Nature
Groundingis connecting physically and mentally with the ground, the earth beneath your feet.
Your breathing and movement have an important role in grounding.
Walking through nature at a slowed pace makes breathing calmer, you feel your shoulders drop, there is de-stressing.
The nature around you helps you reconnect with yourself and the Earth.
Natural wisdom
Every person has a natural wisdom within them. Nature helps you rediscover this.
It is one great source of inspiration and mirror; it shows you answers that are already within you.

1 on 1 walk
There is room for silence and also to exchange thoughts with what is going on inside you, what you are struggling with in life and where you could use a listening ear.

- nature experience
- body awareness
- from thinking to feeling
- mindfulness
- coaching
Feel the ground beneath your feet again, and experience peace and relaxation in your mind and body.
A gift to yourself!
"Feel the ground under your feet again, and experience peace and relaxation in your mind and body"
Location
- Appel country estate near Voorthuizen/Nijkerk
Practicalities
-The walk will take place in the forest.
- Take care of yourself; in terms of clothing and sturdy footwear.
- A surface to sit on and whatever else you need to feel good.
- Tea and sweets will be provided.
- 1 on 1 walks are by appointment, there are regular dates available for group walks and booking a date for a group is also possible, such as a group of colleagues or as a girlfriends getaway.
Investment
- Group walk €30
- 1 on 1 walk €80

Désiree, druid and coach
From my perception and experience as both a druid and life coach, I help you reconnect with nature, be in the here and now.

I have a question:
06-20620930 or contact@desireeovereem.nl